Oil prices held steady on Monday, as natural-gas prices continued to surge towards levels not seen in nearly 14 years.
Price action
West Texas Intermediate crude for May delivery CL00, +1.16%   CL.1, +1.16% CLK22, +1.16% rose 10 cents to $ 107.06 a barrel. The contract rose up 2.6% to $ 106.95 a barrel on Thursday, ending at its highest since March 30, based on front-month contracts, according to Dow Jones Market Data.
June Brent crude BRN00, +1.29%   BRNM22, +1.29% BRN00, the global benchmark, was up 16 cents to $ 111.88 a barrel. The contract rose 2.7% to $ 111.70 on Thursday, also marking the highest settlement since March 30.
May natural gas  NGK22, +3.62% jumped 3.2% to $ 7.53 per million British thermal units, the highest since October 2008. The contract also tapped a near 14-year high on Thursday, jumped 4.3% to $ 7.30 per million British thermal units, and rose 16% last week.
May gasoline RBK22, +0.34%  slipped 0.3% to $ 3.37 a gallon, while May heating oil  HOM22, -0.19% fell 1% to $ 3.608 a gallon.
Market drivers
A late-season blast of cold air in the U.S. and weak storage have been cited as some of the reasons behind a recent surge in natural-gas prices.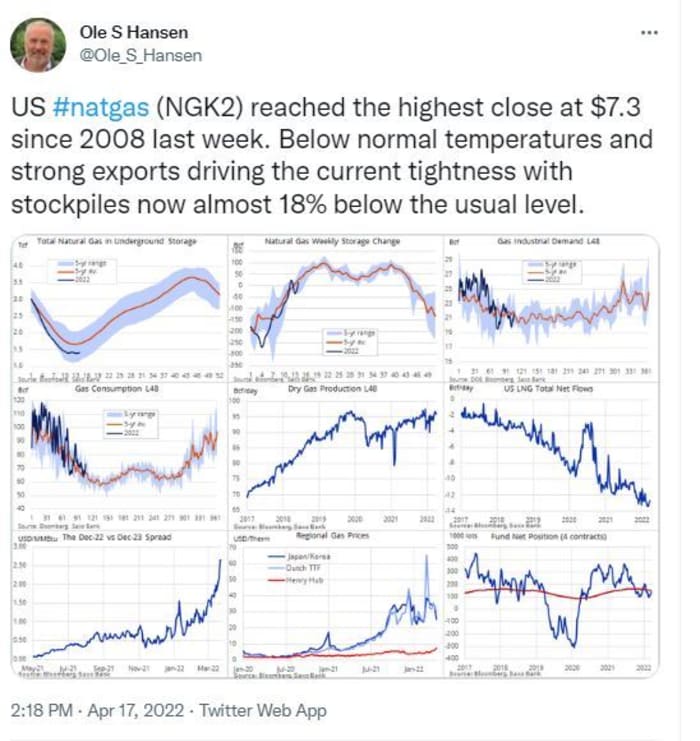 Uncredited
Read: U.S. natural gas is trading at an 'insane' price — Here's why it just hit a nearly 14-year high
The rise behind the highest levels for natural gas since 2008 has much to do with low inventories, Tyler Richey, co-editor at Sevens Report Research told MarketWatch last week. "This has been the result of an "increasingly bullish fundamental backdrop as inventories are now sitting 23.9% lower than the same period last year, and 17.8% lower than the five-year average."
Russia's invasion of Ukraine that began in late February has also boosted prices in the wider commodity space.
Oil prices rose last week after The New York Times reported that European Union officials were drafting a ban on Russian oil imports, something the bloc has been reluctant to do due to dependence on those imports by countries such as Germany and Austria.