The U.S. is facing another surge in new COVID-19 cases in some states, led by Michigan, but the White House has spurned Gov. Gretchen Whitmer request for corresponding surge in vaccines for her state, even as daily vaccinations hit a record of more than 4.6 million over the weekend.
Michigan has been reporting cases at a much higher rate than any other state, with the state recording nine of the top 10 metro areas with the U.S. highest case rates, according to a New York Times tracker.
Whitmer said there are a combination of things that arecontributing to a large amount of community spread in the state.
"We kept our spread low for a long period of time, so we've got reservoir's of people that don't have antibodies," Whitmer said on CBS's "Face the Nation" on Sunday. "We have variants, a big presence of variants here in Michigan that are easier to catch. And people are tired, and they're moving around more.
Whitmer's comments came as reports surfaced over the weekend that a study in Israel, on a relatively small number of people that has yet to be peer reviewed, suggested that there was a higher rate of the South African variant among those who received a second dose of the Pfizer Inc./BioNTech SE vaccine compared with the unvaccinated group.
Meanwhile, the Biden administration has rejected Whitmer's request for an increased share of vaccines to combat the new surge, and instead has offered vaccinators and resources to help get more shots in arms. White House COVID-19 Response Coordinator Jeffrey Zients has said that "now is not the time to change course on vaccine allocation," given the uncertainty over where the next increase in cases could occur.
So far, the Biden administration's vaccination strategy has been working, with the White House pointing out at a briefing Monday that a record of more than 4.6 million doses were administered on Saturday.
Total vaccines administered increased to 189.69 million, according to the Centers for Disease Control and Prevention. The number of people receiving at least one dose increased to 120.85 million, or 36.4% of the total population as of Monday afternoon, and those fully vaccinated grew to 74.07 million or 22.3% of the population.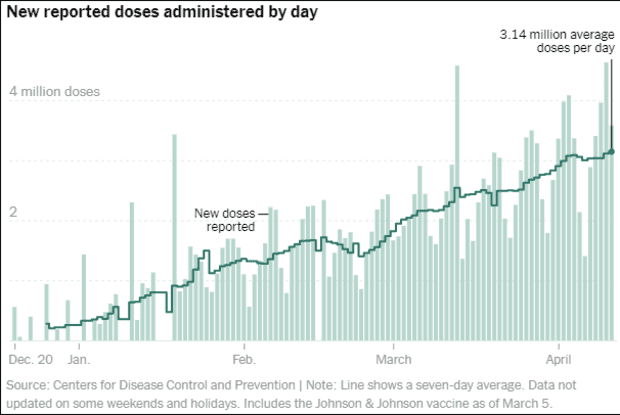 New York Times, CDC
The U.S. leads the world by far in the number of people fully vaccinated, with more than five times the number of second-place India, JHU data show.
The vaccines from Pfizer PFE, +1.02% and partner BioNTech BNTX, -0.07% and Moderna Inc. MRNA, -0.77% required two doses while the vaccine from Johnson & Johnson JNJ, +0.09% requires just one dose.
While Whitmer praised Biden White House's response to the COVID-19 crisis, she disagreed with the decision to stick to the vaccination plan.
"When there is a surge we think that it's important that…we rush in to meet where that need is, because what's happening in Michigan today, could be what's happening in other states tomorrow," Whitmer said. "So it's on all of us to recognize, we can squash where we're seeing hot spots. It's in everyone's best interest."
Former Food and Drug Administration Commissioner Scott Gottlieb added on "Face the Nation" that Whitmer's request for more vaccines was made weeks ago, said the White House's stance is a mistake. "I think we should've done it weeks ago," Gottlieb said. "It's never too late to do it."
The daily average of new cases in Michigan was 7,377 as of April 11, up 60% from the average two weeks ago, while average daily deaths jumped 115% to 43 and hospitalizations increased 112% to 3,665, the New York Times data show.
The only metro area in the country's top 10 where the outbreak is the worst that's not in Michigan is in Illinois, which has seen the average daily new case rate surge 45% in the past two weeks.
In all, 28 states have seen cases rates trend higher in the past week, up from 21 states the week before, according to data provided by Johns Hopkins University.
On Sunday, there were at least 48,147 new COVID-19 cases in the U.S., 296 deaths and 43,706 people hospitalized, according to New York Times data, although those numbers may be underreported given reduced staffing at hospitals on weekends.
There have been and average of 69,632 new cases per day in the past week, up 11% from the average two weeks ago.
That brings the total U.S. cases to 31.23 million as of Monday afternoon and the death toll to 562,341, according to JHU data. The U.S. case total represents 22.9% of the worldwide total and the death toll is 19.1% of the world's total.
In other news:
• Regeneron Pharmaceuticals Inc. REGN, -0.20% shared Monday additional positive clinical data from two studies about its COVID-19 monoclonal antibody cocktail. One late-stage trial found that subcutaneous administration of REGEN-COV in recently infected asymptomatic patients lessened the overall risk to progressing to symptomatic infection by 31%. "These data pave the way for REGEN-COV to be used before patients become symptomatic, with a more convenient subcutaneous administration," Dr. Katharine Bar, one of the study's investigators, said in a news release. The treatment, REGEN-COV, is currently authorized only as an intravenous therapy.
• CVS Health Corp. CVS, +0.47% said Monday that it is adding locations where it administers the COVID-19 vaccination to eligible patients in four states starting April 14: Nebraska, Maine, Arkansas and Iowa. Appointments will become available on April 13. As of April 14, the pharmacy retailer will be administering vaccinations at more than 6,000 locations in 49 states, Puerto Rico and Washington D.C., with 70% of the U.S. population within five miles of a location. CVS, which has the capacity for 25 million vaccinations per month, says that the pace of the shots should increase as supply increases.
• Walgreens, the retail pharmacy division of Walgreens Boots Alliance Inc. WBA, +0.80%, said Monday that nearly 60,000 immunizers in more than 7,000 of its more than 9,000 retail locations, in 49 states, Washington, D.C. and Puerto Rico, are administering COVID-19 vaccines. The company said it has administered more than 11 million vaccines.
• Eli Lilly & Co. LLY, -1.44% said the U.S. government modified purchase agreements for its COVID-19 antibody therapies. The agreement for bamlanivimab, which was the first Lilly antibody treatment to receive emergency authorization, now includes etesevimab. Using a combination of the two antibody therapies is more effective against some of the new virus variants that have emerged. Lilly said the new agreement terminates the original purchase agreement for bamlanivimab and in effect cancels the roughly 350,000 doses of bamlanivimab that had been scheduled for delivery in March.
• China's top disease-control official admitted that the country's coronavirus vaccines have low effectiveness, and is considering mixing them to try to boost protection, as the Associated Press reported. Chinese vaccines "don't have very high protection rates," said the director of the China Centers for Disease Control, Gao Fu, at a conference Saturday in the southwestern city of Chengdu.
• U.S. Secretary of State Antony Blinken slammed China for its lack of transparency in the early stages of the coronavirus pandemic. "I think China knows that in the early stages of COVID, it didn't do what it needed to do, which was to, in real-time, give access to international experts, in real-time to share information, in real-time to provide real transparency," Blinken said in an interview with NBC News' "Meet the Press" that aired Sunday.
Latest tallies
The global tally for the coronavirus-borne illness rose to 136.28 million on Monday, while the death toll grew to 2,940,601.
About 77.6 million people have recovered from COVID.
Brazil is second globally in cases at 13.53 million and also second with a death toll of 353,137.
India is a close third worldwide in cases with 13.48 million and fourth in deaths at 170,179.
Mexico is third by deaths at 209,338 and 14th highest by cases at 2.28 million.
The U.K. has 4.39 million cases and 127,346 deaths, the highest in Europe and fifth highest in the world.
China, where the virus was first discovered late last year, has had 102,069 confirmed cases and 4,843 deaths, according to its official numbers.